iFoneTool AnyGo
Try It Now
Buy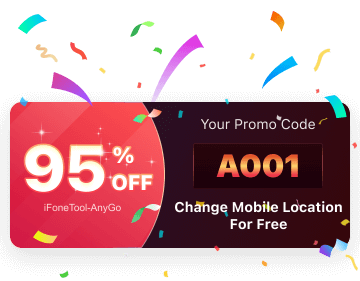 Android 13 & iOS 16 Compatible
PC 1-Click Change iOS/Android GPS Location Without Jailbreak!
Change GPS location on iPhone/iPad in clicks (No Jailbreak)
Fake Pokemon Go GPS on Android and iOS devicesHot
Simulate GPS movement along any custom path with joystick
Collect and import popular GPX route files for next use
Mock GPS location on unlimited devices simultaneouslyHot
Works well with location-based social apps and AR games
Fully support the latest iOS 16/Android 13
Try It Free
Buy Now
Available For:
iOS
Simulate GPS Movement

On iOS/Android Without Walking

iFoneTool AnyGo is the most secure phone spoofer for iOS and Android devices, providing 3 modes to help you fake phone location safely. You can change your location without moving around your home
Pick a location on the map and jump directly to it without moving.
Set the start point and end point on the map, and iFoneTool AnyGo will help you move at the specified speed.
Select multiple points on the map to plan a route, moving a specific route at different simulated speeds.
Fake iOS/Android Anywhere GPS location on all location based Apps/Games
iFoneTool AnyGo enables you to change your iPhone/Android's GPS location to any destination without jailbreaking!
Works well with location-based social apps and AR games
Prevent Apps from tracking your location
Hide your location without anyone knowing
Access videos, films, music and other Geo-restricted content
Mock GPS Location with
Joystick
Enjoy perfect gaming experience with iFoneTool AnyGo joystick! You can play AR games more smoothly, no need to worry about traditional emulator's game crashes.
Automatical movement
360 degrees freely adjust your direction and move automatically
Keyboard control
Use the W, A, S, and D keys on the keyboard or the up, down, left, and right arrow keys to control GPS movement.
No Expertise Required
Transmit GPS location and simulate device movement in 3 easy steps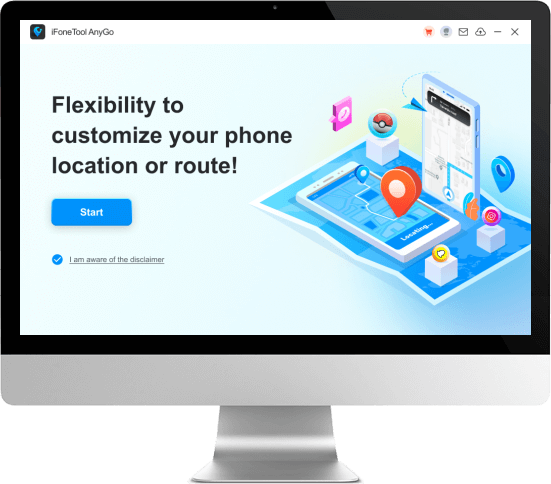 Step 1. Launch the program
Download AnyGo to your computer
Step 2. Connect your device
Connect your iPhone or Android to the computer
Step 3. Change GPS location
Choose your desired mode to change GPS location
What Makeslt the Best Location Changer
Helps you change your location on iOS/Android in a flexible and secure way. You can set the movement speed and direction for the route, and pause at any time. What's more, you can search for a specific coordinate as your destination, which is great for any AR game.
Support 10 iOS/Android Devices
Support 10 iOS/Android Devices
Control 10 devices at the same time.
Historical Records
Historical Records
Save the historical spots and make it more convenient to re-select it.
Adjustable Moving Speed
Adjustable Moving Speed
Adjust the speed of simulated movement from 3.6km/h to 120km/h.
Import/Export GPX
Import/Export GPX
Freely import and export the routes you want.
Collect Spots and Routes
Collect Spots and Routes
Bookmark your favorite places and routes for easy one-tap access.
Realistic/Fluctuation Mode
Realistic / Fluctuation Mode
Choose real mode/fluctuation mode, close to the real movement.
USB Connection
USB / Wifi Connection
Both iOS and Android devices support USB and WiFi connections.
Cooling Timer Function
Cooling Timer Function
Remind you not to do relevant operations before the countdown ends.
Trusted by over users
+
Industry Insiders Approved